Colossorama
Blood isn't the only juice flowing around Colossorama!
---
Whale hello there! It's a brand new month, isn't it? And that means it's time for another status update from us at Whales And Games! Like we discussed last month, we have been working on getting Colossorama • The Champions Update ready for release and have been continuously working on its final touches, adding a final coat of polish to make sure we close off the game for good this time!
(Since posts here on Itch are targeted and posted for each game, this post is the Colossorama-relevant snippet from a bigger status report for August which you can read at our website's blog!)
What final polish is missing, you ask? Well, we're currently redoing most of the sounds of the game to make sure they have way more extra oomph than the previous white noise samples, making sure that all of the menus are controller compatible, as well as revising final art assets and gameplay features! We're also adding a little bit of extra juice here and there to make sure even the smallest stuff stands out and feels great! Here's a look at our fully-polished Leaderboards for example.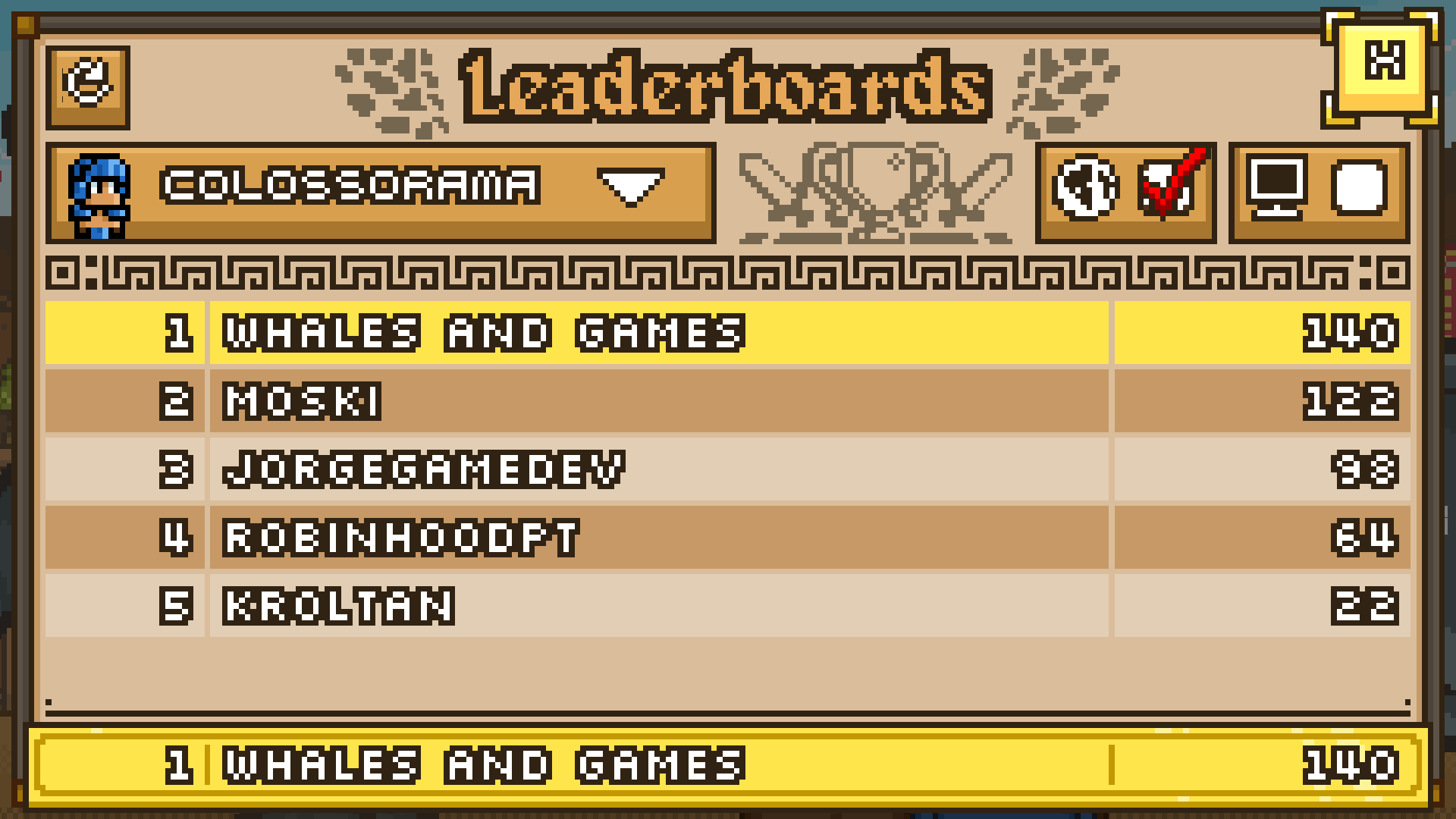 Currently, the Colossorama changelog for this version boasts over six pages of changes, from gameplay tweaks to new features and menus, to visual overhauls and more! We're also working on playtesting the game together with our feedback committee and we can't wait to get it into your hands and close off a long pending chapter of Whales And Games! Get ready to slay some heads! ⚔️
We are extremely excited for our future plans we have in store for Whales And Games. You can still look for more on Colossorama • The Champions Update throughout this month, and you can keep up with the announcements for all of these over here on our Blog, on our Twitter and Facebook!
On a side-note, some of our team members are also going to be casually visiting both Devcom and Gamescom in Cologne, Germany later this month! If you do happen to be visiting any of the events, look out for some people in extremely royal-blue shirts. There's a very big chance that's us! 🐳

If visiting events isn't really your thing, no worries! You can always hang out with us over at our Discord chat! Cheers! 👏